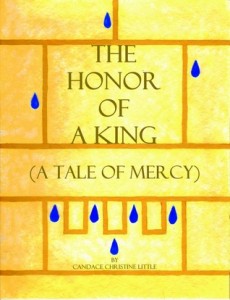 Author: Candace Christine Little
Title: The honor of a king (a tale of mercy)
Available at: Goodreads.
Rating: 5 of 5
Family Friendliness: 5 of 5
Synopsis by author:
"Diplomats. Deceit. Disappearances. An exploration. An escape. A wicked king. A wicked queen. A wicked prince. A warning. A war. A wound. A welcome. A slave. A son. An invitation. The Honor of a King (A Tale of Mercy) by Candace Christine Little recounts the adventures of Artemerio and Barto as they investigate the many mysteries surrounding the kingdom of Morlestoph and discover the many mysteries of mercy."
Linda's Review:
The third book in this series, was captivating. I read it over 4 days. I simply could not wait to get into every night to see what Barto and Artemerio were up to. This book deals with the topic of mercy. Mercy is not getting what you do deserve. That is you may deserve punishment for doing something wrong, but mercy says you do not get punished. This is shown throughout the entire book, as characters several times find themselves wanting and in the wrong, and then receiving mercy from someone. This time Barto and Artemerio set of secretly to go investigate an island that has been overrun by the kingdom of Morlestoph. It is said that many Windsalian soldiers have disappeared on this island and have been made slaves to the kingdom of Morlestoph. Along the way, Barto and Artemerio meet a young boy William who is from Morlestoph. William's story is heart breaking, and when he receives the ultimate mercy I was crying and had to grab some kleenex. When a book pulls at my heart strings, I know it is a keeper. This book is totally kids friendly, and I encourage parents to enjoy this series as a bedtime story.