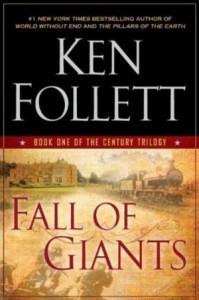 Author: Ken Follett
Title: Fall of Giants
ISBN: 0330460552
Available at: Amazon, and Goodreads.
Rating: 5 of 5
Family Friendliness: 1 of 5
Synopsis by author:
"This is an epic of love, hatred, war and revolution. This is a huge novel that follows five families through the world-shaking dramas of the First World War, the Russian Revolution, and the struggle for votes for women. It is 1911. The Coronation Day of King George V. The Williams, a Welsh coal-mining family, is linked by romance and enmity to the Fitzherberts, aristocratic coal-mine owners. Lady Maud Fitzherbert falls in love with Walter von Ulrich, a spy at the German Embassy in London. Their destiny is entangled with that of an ambitious young aide to U.S. President Woodrow Wilson and to two orphaned Russian brothers, whose plans to emigrate to America fall foul of war, conscription and revolution. In a plot of unfolding drama and intriguing complexity, "Fall Of Gaints" moves seamlessly from Washington to St Petersburg, from the dirt and danger of a coal mine to the glittering chandeliers of a palace, from the corridors of power to the bedrooms of the mighty."
Linda's Review
I have never learned so much about World War 1 as I did in this novel. I loved the fact that the author Ken Follett seamlessly and almost effortlessly interwove real history with fictional characters, and made the history jump of the page and come alive. This is a must read for all those who love historical dramas, or romance, and even adventure. The pages are filled with everything you can imagine, and I belief there is a wide reaching audience who will fall in love with this work. I can't wait to start the next audio book in the series, and may be able to hopefully swing it for Christmas. I really can't summarize the story line any better than the synopsis does above. So instead I'll give you my highlights. All of the main characters in the book had endearing qualities, and some at the same time you just wanted to choke because of the stupid decisions they were making. It was a realistic portrayal, because no one really set out to be evil or bad, it was just part of their nature, and all the characters had flaws that they had to deal with and struggle with, with World War 1 as the backdrop.  My two favorite characters of the book were Ethel and Billy Williams, probably because I like rooting for the underdog. Both of them had tremendous growth in the book, and I liked that they we're always striving to do what is right, even if it meant going against authority. Although I loved this book, I would not recommend it for kids under the age of 14, as the book can get pretty graphical, gory and steamy at times. It's easy enough to flip those pages or skip ahead on the audio book, but is one reason it's not appropriate for kids to read.