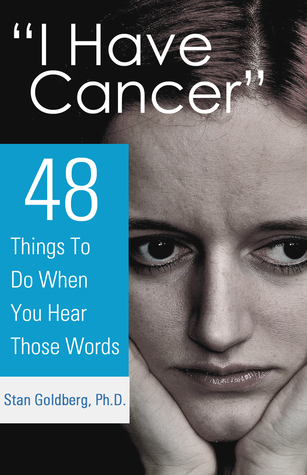 Title: I Have Cancer: 48 Things to Do When You Hear Those Words
Author: Stan Goldberg, Ph.D.
ISBN: 9780990997009
Overall: 3 of 5
Family Friendliness:  5 of 5
Author Synopsis:
At least once in your life someone will say to you, "I have cancer," and when these three words are spoken, you may struggle with a response. If a loved one or friend hasn't already informed you of a cancer diagnosis, it's just a matter of time until someone will. This ebook will provide you with 48 things to do when you hear the words, since every year fourteen million people worldwide learn they are living with or may die from this illness.
Twenty years ago a good friend informed me she had breast cancer. I didn't know if I should be upbeat (telling her she would defeat it) or just hug her and say how sorry I was. I did what most people do. I said, "I'm so sorry," a safe answer but not necessarily a helpful one. Twelve years ago it was my turn
Roni's Thoughts:
This topic was newly pressed on my heart only hours before I received the request to review this book. I am not new to the world of the dying, but as caregivers we all need to have some reassurance that what we do (and how we do it) is correct. So I was very eager to review this one, to deal with the situation I was once again facing.
As a friend of someone who (years ago) lost her fight with cancer, a short-term Hospice volunteer, and a nursing student, I can say that there are quite a few things in this book that can be useful for those unfamiliar with these types of situations…mostly the first few parts, though. There are later parts with which I disagree. Just remember that some types of cancers/diseases/disorders affect people differently than others, and people themselves vary in their responses. Culture plays a HUGE part in patient response, particularly in those cultures that limit the range of acceptable behavior given any situation. An individual's past experience is also critical to consider. Understand that no book will ever provide you with a perfect list of Do's and Don'ts, because the author cannot address certain situations that s/he has not experienced/witnessed yet. And no matter how long you practice in any field, there's always something that you didn't know/think of. Overall, Dr. Goldberg covered many important topics, and the ease of reading was not too bad, with a overall score of 3 out of 5. Family friendliness is 5 of 5, though some children may find these concepts difficult to understand. Thanks for your submission Dr. Goldberg, and your for service to those who desperately need this type of specialized care!