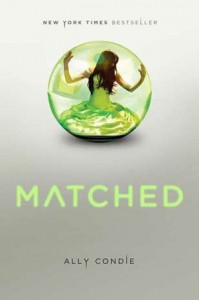 Author: Allie Condie
Title: Matched
Available at: Amazon, Audible and Goodreads.
Rating: 3 of 5
Family Friendliness: 4 of 5
Synopsis by author:
"Cassia has always trusted the Society to make the right choices for her: what to read, what to watch, what to believe. So when Xander's face appears on-screen at her Matching ceremony, Cassia knows with complete certainty that he is her ideal mate… until she sees Ky Markham's face flash for an instant before the screen fades to black.
The Society tells her it's a glitch, a rare malfunction, and that she should focus on the happy life she's destined to lead with Xander. But Cassia can't stop thinking about Ky, and as they slowly fall in love, Cassia begins to doubt the Society's infallibility and is faced with an impossible choice: between Xander and Ky, between the only life she's known and a path that no one else has dared to follow."
Linda's Review:
Yet another dystopian future novel. Unfortunately this one was not as well executed. This first novel in the series sets out to describe the perfectly, mundane, boring and controlled world that Cassia lives in. Unfortunately the descriptions of what the people were able to do, bored me to tears and pushed me over the edge of really being able to enjoy this love story. Everything was perfect, the threats to their existence was mollified and only superficial at best. The only action that took place was in the last chapter of the book. This works if you consider that this is part of a series, but as a stand alone book it was a brutal boring read. Nothing happens, the character growth is extremely slow, there is no action, just a lovely forbidden love romance that is not threatened until the last chapter. Frankly, you could have probably cut this first novel down to about a third of its current version, and you still would have had the basic story line going. The characters did the same thing day in and out, and I guess it was supposed to simulate how mundane their lives really were, but in the process made it mundane for the reader as well, not a place that an author really needs to go. People should want to turn the pages of your book to know what happens next, and not be like, okay their going to climb that same hill and have a sappy conversation for the 20th time in this book. Anyways, I can keep rambling about that, but I think I've made my point. As for family friendliness, this is not a book that little kids or tweens would enjoy, but is more suited for teenagers and older.