March 19, 2013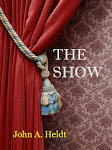 Author interview with John A. Heldt.
What is your name?
John A. Heldt
What is the name of the book or series you're promoting?
I'm promoting The Mine, The Journey, and The Show. They are the first three books of my five-part Northwest Passage series of time-travel romances.
Where were you born and where do you call home?
I was born in Portland, Oregon, grew up in the small towns and suburbs of eastern Oregon and western Washington, and currently live in Helena, Montana.
What is the name of your most recent book and if you had to sum it up in 50 or less words, what would you say?
The Show is the story of shy honors student Grace Vandenberg, who travels from 1941 to 2000 in pursuit of love but is rerouted to 1918, where she meets her parents as young, single adults and makes a new life in the age of silent movies and the Spanish flu.
Do you have plans for a new book? Is this book part of a series?
I am currently outlining the fourth book of the Northwest Passage series. In The Fire, Kevin Johnson, the 22-year-old son of The Journey protagonist Shelly Preston Johnson, will travel from 2013 to Wallace, Idaho, in 1910. He will see Halley's Comet, fall in love, and experience the Big Burn, the largest wildfire in U.S. history.
What books have influenced your writing?
Three authors come to mind: Nicholas Sparks, John Jakes, and Clive Cussler. I like how Sparks writes about relationships, taking the love story approach over formula romance, and how Jakes and Cussler write about history and organize their works.
Do you prefer ebooks, paperbacks or hardocver?
As a reader, I prefer hardcover books. As a self-published author, I love ebooks. They have allowed me to distribute my works to readers around the world.
What is your favorite meal?
I love Mexican food. A steak fajita with refried beans, chips, and salsa and a margarita to wash it down is pretty close to heaven in my book.
Place that you would most like to visit?
Australia.
One of your favorite quotes.
"A pessimist sees the difficulty in every opportunity; an optimist sees the opportunity in every difficulty." – Winston Churchill
What's your favorite Christmas story?
It's actually my mother's favorite Christmas memory. When I was a toddler I pulled down our Christmas tree. It landed right on top of me. And because someone was in the "forest" to hear my wail when the tree fell over, it really did happen.
What is your best scar? Tell the story of how you got it.
I have a triangle-shaped scare at the base of my neck, the result of a tracheotomy and complications from croup when I was fourteen months old.
What was the first car you drove?
A bright orange 1972 Volkswagen Beetle. It had black vinyl seats, an eight-track-tape player, and a manual transmission with a real 8-ball at the end of the shift stick. My young protagonist, Shelly Preston, drives the same kind of car in my second book, The Journey.
Where can readers stalk you?
Blog: http://johnheldt.blogspot.com/
Facebook: https://www.facebook.com/johnaheldt
Goodreads: http://www.goodreads.com/author/show/5754231.John_A_Heldt
Amazon: http://www.amazon.com/John-A.-Heldt/e/B007A23EQS
Shelfari: http://www.shelfari.com/authors/a1002681160/John-A-Heldt/