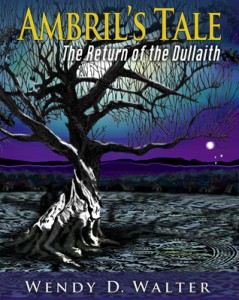 Author: Wendy D. Walter
Title: Ambril's Tale, The Return of the Dullaith
ISBN: 0985714719
Available at: Amazon, Barnes and Noble, and Goodreads.
Rating: 4 of 5
Family Friendliness: 5 of 5
Synopsis by author:
"Fourteen-year-old, Ambril struggles with the mystery surrounding her father's death when she moves back to the mysterious town where she was born. When she accidentally uncovers a secret which threatens to destroy her entire family, she continues her quest, against all odds, to clear her father's name. But will she be able to claim her magic and heal the rifts in her family?"
Wonderful and engaging world. Author Wendy Walter has done a remarkable job creating a world full of rich, unique and endearing characters. The story was enjoyable and is perfect for a late summer afternoon read. Ambril finds herself in the most peculiar town, with no real expectations and quickly makes friends with two of the town outcasts. In my opinion, in some instances Ambril's friends Sully and Ygg are even more interesting than Ambril, and together they venture into unknown knowledge and territory. With a whole town in denial about the existence of magic, it proves to be pretty difficult for Ambril to find anyone who will help or even teach her. To top it all off, her creepy soon to be step-dad seems to be at the heart of all the cover ups, to make magic disappear from the town. There were some really minor grammar and formatting mistakes, but they are easily over looked.
Although the author did an excellent job with the world creation and character development, I found the story to drag at times. There is no real overall threat or problem to be solved in this first book. I felt that none of the questions of the book were resolved by the end, and felt let down that not even one pay-off occurred. It seemed to me that Ambril kept on stumbling into one awkward situation after the other, with no real purpose. This makes Ambril a rather weak heroin. In my opinion, it was simply to easy to put the book down and walk away, and I had to do so several times out of boredom.  However, to some people it will be a delightful read and refreshing, and so I've rated it a 4 out of 5 overall.
As for family friendliness, it scores a 5 out of 5. I think many younger kids will find the characters funny, and endearing and would be able to associate with them.  This is one of those few and rare books that I would allow young children to read by themselves.